Mental health awareness has become an important social discourse over the past few years thanks to increasing public consciousness and accessible healthcare education.
Furthermore, recent scientific research has highlighted the significance of mental health and how it impacts the physical well-being and emotional intelligence of an individual. This could explain the rise in online and in-person initiatives, charities, and advocacy groups dedicated to helping communities and workplaces prioritize mind wellness for people.
Part of today's trend is raising awareness about mental health to inform individuals on what it is and how it relates to healthcare and human rights. The awareness also aims to tackle and disprove harmful stigmas and cultural attitudes that make it harder for people to seek help.
Fortunately, there are many ways to get involved if you're interested in making a difference. Here are four ways to raise mental health awareness. Keep on reading to find out more.
1. Fundraise For A Mental Health Organization 
One of the most proactive steps you can take for mental health awareness is to start a fundraiser for an existing mental health organization. They can then use your funds to accumulate more resources and support their beneficiaries. Some of these include counseling, social services, and insurance payment assistance for those who need professional help but can't afford it.
Mental health charities can use the money raised as well to spread awareness through paid advertising campaigns that can reach a wider audience. Fundraising ideas should ideally center the topic of mental health awareness while getting a community involved in an event. These can be walk-a-thons where facilitated talks are held before the event starts, for instance.
You can also get corporate sponsors involved to form a partnership, as seen here, or pledge financial support through sales percentage.
2. Utilize Social Media 
Social media is emerging as the most powerful tool for fast information dissemination with the potential for worldwide reach.
With millions of people visiting and using social media networks for hours daily, social media has helped shape public discourse and started conversations to destigmatize mental health. Thus, it's the perfect setting to raise awareness by posting useful facts, cultural myths, and infographics to educate online viewers.
You can use social media to provide tips and best practices to take care of their mental health and where to find help such as substance abuse treatment and crisis helplines. In this case, you can incorporate mental health education into your existing content or start a new mental health-centered account on any platform you prefer.
And you can use hashtags and multimedia messages to drive your message across. This can be done during mental health awareness month as a start to increase your discoverability and gain a following for instance.
3. Encourage Mental Health Screenings At Work Or School 
Your workplace or school is a good place to start small changes within your social group and the peers and coworkers you see almost every day. Additionally, these are traditionally high-stress environments where people could benefit from school and workplace wellness programs that tackle depression, anxiety, and suicide prevention, among others.
You can get involved by asking your management or school faculty to host mental health screening days where counselors are invited to the property, and individuals have the option for a free and anonymous assessment of their emotional health at set-up sites and booths.
To encourage hesitant people to participate, you could hand out flyers detailing what screenings entail to demystify the process and assure people that it's a safe and private space for them to open up.
4. Join A Local Advocacy Group 
Legislation affects not only mental health but access to healthcare and the legal rights of citizens living with mental health conditions and their families. Thus, you can help raise awareness by joining a local mental health advocacy group as a volunteer.
Many of these organizations aim to inform people about mental health policies and laws that protect them should they be unfairly treated due to their condition. Additionally, some act as lobbyists to help improve public policy and increase the visibility of political and community leaders, speakers, and activists who support mental health initiatives.
As such, your role as a volunteer advocate would likely involve raising awareness by distributing information and participating in public marches, demonstrations, and events.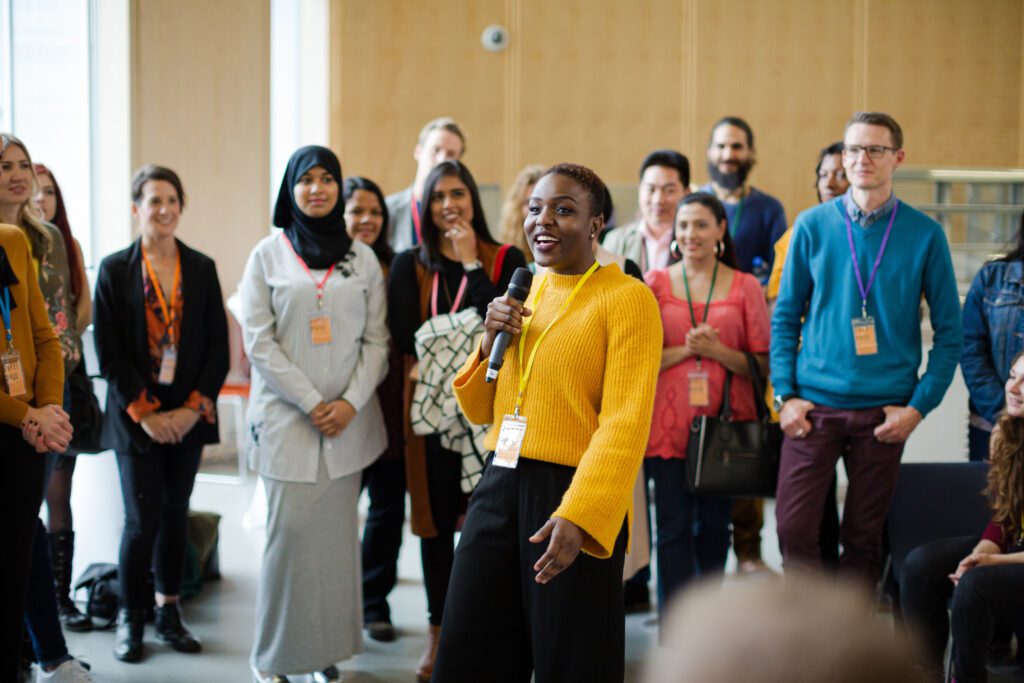 Conclusion
You can raise mental health awareness by getting involved in your community and utilizing tools like social media. You can help spread valuable information to a wide audience while supporting local programs and events and making a positive impact on people's lives.
It's said that the most common ways to get involved in meaningful mental health awareness movements consist of volunteering and fundraising work. Your efforts can provide individuals that are in need of better resources and more funding to continue promoting mental health education, healthcare, and compassionate guidance.