Tanks are necessary for most homes for storage, especially in areas prone to water supply shortages. This is especially since most household chores depend on water, meaning you may experience inconvenience if your taps run dry for even a few hours.
With the right tank size, you can provide enough water for all home use, including irrigating your lawn. But aside from the size, other factors to consider when purchasing tanks include cost and material. Yet that's not all. You should also choose an appropriate color to enhance your home's aesthetics. Here's how to go about it.
Match Your Home's Exterior
Your home's exterior color is one of the crucial considerations when choosing a tank. If you're planning to install the tank on top of your roof, it'd be best to coordinate its color with the roofing. If you're keen on making statements, consider a color that blends well with the roof color.
For instance, a red roof goes well with a manor red color for steel tanks, while a black tank can do well with dark roof colors such as green and blue. If you want to color-block your roof and the tank, ensure the colors pop. For example, a classic cream roof can be perfect for a blue tank.
On the other hand, if you intend to place the water tank above the ground for harvesting rainwater, you'd want its color to match the siding or the gutters. Doing so can leave the impression that you're keen on details.
Another idea worth considering is to match the tank's color to your fence or garden. A yard full of flowering plants calls for a brightly colored tank, whereas a purely green garden may require a dark green tank. You can check out websites such as watertankfactory.com.au/water-tanks-parramatta-penrith/ or others to know the options available in the market.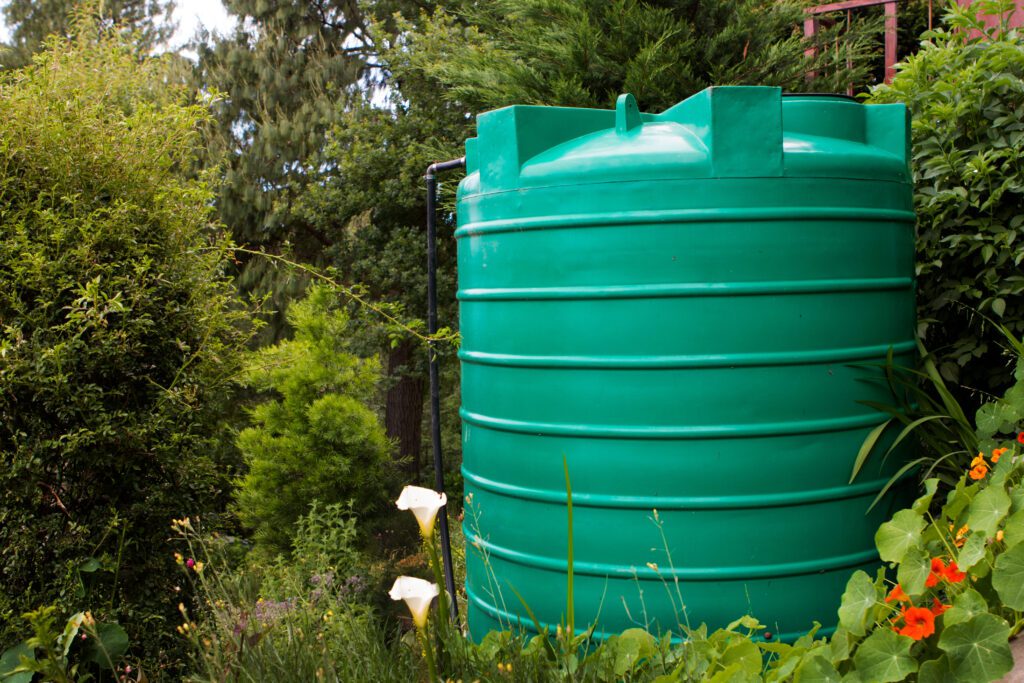 Consider The Material
Tank colors usually depend on the material used in making them. For instance, steel water tanks have a limitation on the base color, which refers to the hue of the steel sheets as manufactured in the factories. However, you can check with your supplier the color options available and whether or not you can paint them after installation.
Other materials such as fiberglass and plastic generally have a wide range of colors. But as mentioned earlier, whichever color you choose, it's recommended to match it to your home's exterior finish. That way, you can achieve a cohesive look for your home. You can go for a tank of similar color to your walls or any other shade within the same color palette.
Although, it's essential to note that the material used in making the tank is vital for its performance and durability. That said, it's ideal to consider other benefits the material of your tank offers besides color. By all means, the tank should be robust and last longer.
Evaluate The Effect Of Sunlight On The Color
As a homeowner, you'd want to minimize household maintenance expenses as much as possible. And so, since most tanks are generally exposed to sunlight, you should be in the know about the effect of the sun on the color of your tank. In most cases, tanks can get discolored over time. And in the presence of extreme Ultraviolet (UV) radiation, dark colors do best.
If you choose to go for a plastic tank, make sure it has a UV-stabilized matte finish. This can help protect it from fading as the finish absorbs all the UV light that could make it fade.
Investigate The Color Effect On Water
The tank's color can affect the water temperature. If the color on your tank absorbs the UV rays, you can be sure it'll warm the water. This might be beneficial if you primarily use the water for bathing or washing utensils. However, the warmth may not be refreshing if it's drinking water. Algae and bacteria also thrive in warm temperatures. So, lighter non-heat-absorbing colors are considered a better option. Moreover, you can also erect a shade to cover the tank and counter the heating.
Some dark colors, such as black and blue, are suitable for outside water storage if they have additional features. A good example is a 3-layered finish that minimizes heating. For this, ensure the tank is certified as standard to ensure UV radiation doesn't penetrate.
Wrapping Up
Coordinating your tank color with the home's exterior paint and finish can help enhance your home's overall aesthetic and curb appeal. Nonetheless, don't stop at color alone without considering other performance features. Aside from the color, look into the tank's quality, durability, heat reflectance, cost, and material composition.
On the quest to get a tank, make sure you have all the information to make the right decision. Engage the supplier in a conversation to get the advantages of one tank over the other. All these considerations can help ensure you invest in a tank that not just suits your home but also serves you well.